By Yusuf Mohammed
Olamilekan Agbeleshe, popularly known as "Laycon" is the winner of season 5 of Big Brother Naija tagged Lockdown.
On September 27, 2020 during the finale of the show, the 26-year-old from Ogun State was declared the winner of the grand prize worth ₦85 million after defeating 19 other housemates.
As winner, he gets N30m cash prize, SUV from Innoson Motors, a two-bedroom apartment, trip to Dublin, Dubai trip for two, a trip to watch the UEFA Champions League finale, home appliances courtesy of Scanfrost, one year supply of Indomie noodles, Munch it chin-chin and Colgate toothpaste, one year supply of Pepsi and branded chiller, brand new Oppo mobile smartphone among other mouth-watering prizes.
At the beginning of the show, many people did not see him as a potential winner. But when viewers realized just how talented he was, they began to fall in love with him. From Lagos, to Abuja, Many Nigerians from all walks of life chose Laycon as their favourite housemate.
Some of those who have been watching the show right from when it started in 2006 are of the view that they have never seen anyone who got the kind of support he got. Right from the first week of the show, Toyin Lawani, a popular fashion stylist urged her followers on social media to support him.
On 22 July, 2020 became the first housemate of the season to be verified on Instagram. On 20 September 2020, he broke record and became the first housemate in the history of the show to reach 1 million followers on Instagram while still in the house.
Some say the lockdown due to coronavirus which made millions of youths to be at home contributed to his huge following.
The rapper attended the University of Lagos where he graduated with a Second Class Upper in Philosophy.
After graduating from the university, he got a job at Bestman Games, Ikoyi, as a sales and business development personnel. Bestman Games is an African games company based in Lagos, Nigeria.
He also worked at the Lagos State Ministry of Information and Strategy as a personal assistant to the Assistant Director (Welfare) of Administration and Human resources of the ministry.
Since the return of BBNaija in 2017, 11 years after the first one, there has been no reality TV show as big as it. Wherever two or more youths are gathered, they are likely to discuss it.
Omonike Fowowe, founder of EMR Group, one of the backers of Dorathy, is of the view that "One of the reasons people are crazy about BBNaija is that they love success stories. The show is an inspiration to many youths given the state of the nation. It gives hope to them that one minute you may be nobody and the next minute you could be somebody in life. It is a life changing experience for the housemates and it is something every young person wishes for."
In a similar vein, fashion designer and upcoming actress, Monica Ejembi, said "Seeing is believing. Many youths are struggling to participate in this show because they have seen that it's a life changing experience. While winner takes all in terms of grand prize, those who don't win are also given enough publicity. It all depends on how they make use of it."
Based on the massive attention given to the show, it is expected that those who participate in it become famous overnight. The problem however, is sustaining the fame. History has shown us that only a few of them are being remembered today on both social and traditional media. The likes of Ebuka Obi Uchendu and Tobi Bakre are still shining. Is Laycon going to join the club of those who are still in the limelight? Time will tell.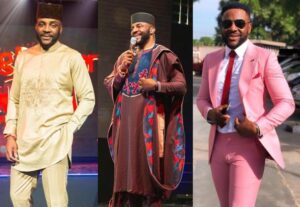 Ebuka
Ebuka Obi Uchendu has become a benchmark for everyone who participates in the reality TV show. He is arguably the most successful Nigerian to have come out of the show.
It has been 14 years since the first edition of BBNaija and Ebuka has remained in the limelight. He did not even come close to being the second runner up as he finished in eighth place. Today, he is more famous than the winner of that edition, Katung Aduwak.
The 38-year-old is known for hosting the reality show Big Brother Naija, the long running Rubbin' Minds talk show on Channels TV as well as co-hosting The Spot and Men's Corner on Ebonylife Television.
Obi-Uchendu has received several award nominations and won the award for Outstanding TV Presenter of the Year at the Nigerian Broadcasters Merit Awards for his work on Rubbin' Minds.
Apart from being a good host and winning awards, he is very famous for his fashion style and he has become a model for youths.
Tobi
Tobi Bakre rose to fame after finishing as a finalist in BBNaija (season 3) in 2018. Since then, he has been shining like a star.
Those who related closely with the 26-year-old before he appeared on the reality TV show are not surprised that he has remained relevant two years after the show. They say that right from his teenage years, he has had a knack for entertainment and the talent to thrive in the industry.
As a student of the University of Lagos, he was part of an association called The Grind and he turned out to be the Chief before he graduated. Long before BBNaija he has had the experience of providing entertainment.
He was able to combine his academics with social life. A trait the viewers saw in the Big brother Naija House as he won intellectual tasks and also won the hearts of viewers on the dance floor.
While he was famous for being an organizer of social events, he was also known to be brilliant in class, graduating with a Second Class Honours Upper Division in Banking and Finance.
His older brother Femi Bakre, is the CEO of Kraks TV and his father, Mr. Olufemi Femi Bakre is the Executive Director of FCMB. He decided to follow in his father's footstep by becoming a banker, but later quit for entertainment.
He is currently a brand ambassador to Unilever, Amstel Malta, Delta soap, Wakanow and Jumia in and out of Nigeria.
He starred in a blockbuster movie, Sugar Rush and he is going to feature as Ike in a remake of Rattle Snake, the Ahanna story.
Bisola                                                                                         
Bisola Aiyeola (born January 21, 1986) is a Nigerian actress and singer. In 2017, she became the first runner up of Big Brother Naija. Nine years before she participated in the reality TV show, Aiyeola was one of the contestants at MTN Project Fame West Africa in 2008 where she came 5th and Iyanya won.
In an interview with The Guardian Newspaper Tobi Bakre mentioned her as one of the ex housemates who inspired him to participate in the reality TV show.
The graduate of business management from National Open University of Nigeria has been involved in many projects and won several awards since she left the house. She was nominated for City People Movie Award for Revelation of the Year (English) alongside Zainab Balogun, Somkele Iyamah, Seun Ajayi.
In 2018, she won the Trailblazer Award at the 2018 Africa Magic Viewers Choice Awards (AMVCA).
She has starred in movies like Payday, Two Grannies And A Baby, Gold Statue, Ovy's Voice, Picture Perfect, Skinny girl in transit and Sugar Rush to mention but a few.
Kiddwaya                                                            
27-year-old Terseer Waya popularly known as "Kiddwaya" was one of the housemates in the season five of BBNaija. Although he did not make it to the final, he is one of the biggest starts of the show. He was the second to have 1 million followers on Instagram after Laycon. Barely two weeks after his eviction Kiddwaya became a brand ambassador of Eko Hotel and Suites.
Kiddwaya is a son of Nigerian businessman, Terry Waya, a popular socialite known for his love of the Italian luxury fashion label Versace. His father's fame and the support he got from Chief Dele Momodu, publisher of Ovation Magazine, made followers to be more interested in him while he was in the house.
During the show, he developed a special fondness for fellow housemate Erica. Their partnership which has been labeled "Kiddrica" by fans happens to be biggest in the history of the show. There are many social media pages dedicated to "kidrica."
He is liked by many for being down to earth despite being a son of a billionaire. It is common for children of the rich who participate in the show to play down their backgrounds just to get votes from viewers. Kiddwaya did not do that. He was himself throughout the show and viewers loved him for that.
Kiddwaya was born in Lagos but hails from Benue state. He lived in the United Kingdom for about six years until he began shuffling between Nigeria and London
He attended the Nottingham Trent University in Nottingham, England between 2011 and 2015 where he obtained his first degree in Business Management. He later returned to the same institution for a Master of Science (MS) degree in International Business (2017 – 2018).
He is currently linked with several businesses and companies, some he started and some he co-founded. Kiddwaya is currently the executive director of Valley Agricultural and Foods Company, an agri-business involved in large-scale agricultural investments, livestock production, food processing and other agro-allied industries.
Erica
Ngozi Nlewedim popularly known as Erica is a 26- year-old ex-housemate of the Big Brother Naija Season five. Many followers of the show believe that she had the fan base to give Laycon a run for his money if she was not disqualified. The actress and model was disqualified on the 6th of September 2020, for breaking several house rules which included disrespect for the Head of House position which she was occupying, among other things.
The manner in which she left the house has not stopped people from showing her love. In fact she has gotten more followers since that incident. Her fans opened a GoFundMe account and at the time of filing this report she had $60,000.
Recently, she announced that she is now under the management of Paul O Paul Okoye's Upfront & Personal/One Africa Global.
Before BBNaija, Erica participated in the Most Beautiful Girl in Nigeria (MBGN) in 2014.
In 2015, she featured in her first movie "Secrets and Scandals". She later featured in three seasons of popular TV series "Royal Castle" and Poka Mesiah.
The beauty queen studied Business Administration at Convenant University and later went to Met Film School, London in 2019.
She has featured in Peak milk adverts alongside popular Nigerian musician Falz.
Erica is the brand ambassador of Zaron Cosmetics, Maltina and Access Bank. She has worked with Glo, My Zoto and Jumia. In 2019, she featured in a Nollywood blockbuster titled "Hire a Woman."
Culled from Newswatch Magazine