"He could go drag-backs, flick-overs, double step-overs, there's been no-one else like him, not even Cristiano Ronaldo."
In his autobiography, Sam Allardyce popularly known as Big Sam shares an insight into Jay-Jay Okocha, a soccer genius from Nigeria who should have been celebrated in a book like so many other legends of the round leather game but so far, nothing has been written about Okocha of which I am aware of. The little insights we get about Okocha come from stuff like this coming from his former coach at Bolton Wanderers, Sam Allardyce. I still think a book on Okocha is relevant even now. So get cracking Jay-Jay. If you need a helping hand, let me know. Meanwhile, this is an excerpt on Okocha selected from Allardyce's book. Pray that the spirit of Jay-Jay Okocha will galvanize the Super Eagles to defeat the Bafana Bafana today at home down under, in what would be a sweet revenge for Nigeria after our 2-0 defeat in Uyo.
I had my eye on another man from the 2002 World Cup, the Nigerian captain Jay-Jay Okocha, who had produced some eye-catching performance, including against England. Jay-Jay had been around the European scene for a while at Frankfurt, Fenerbache and PSG who paid around 14 million for him. But he was out of contract and on the market. We had to move quickly, if we were to get ahead of others who were bound to be interested, so I arrange to meet him at Charles de Gaulle airport.
Jay-Jay pulled up outside the terminal building all alone, driving his own car. There was not even an agent with him, but he knew what he was worth. I started the usual spiel.
'We're not the most fashionable club…dah dee dah…but we have got Youri Djorkaeff…dah dee dah.'
'I know I want to come to Bolton,' he said in perfect English.
I thought it was going to take weeks to sort it out, but we did a deal at the airport and I flew home while he promised to follow the next day to complete the paperwork. Would he really turn up? I thought he would fly in, but not Jay-Jay. He drove all the way from Paris to Bolton, a journey which must have taken eight or nine hours, parked up, got straight out of his car, marched into the Reebok and signed. Quality.
The fans took to him instantly and coined the song, 'Jay-Jay Okocha, so good they named him twice.' We had acquired a world star on a free at the age of 28 and he brought with him entertainment too. Thierry Henry said, 'Jay-Jay is so good even I'd pay to go and watch him.' That was some tribute from a player regarded by many as the best the Premier League has ever seen.
I loved Jay-Jay's tricks on the ball. I could watch him all day. There's no point to a trick if it doesn't get you anywhere and you don't come out of it with the ball, but Jay-Jay always performed his with a purpose. And he did it against the best: Manchester United, Arsenal, he had them in knots. He could go drag-backs, flick-overs, double step-overs, there's been no-one else like him, not even Cristiano Ronaldo. He got people off their seats, even opposition fans loved him. He was a cool African who collected watches and big cars.
'How much are they paying you?' the Bolton lads would joke with him. 'Boys, when you're as good as me, you can have cars like these yourselves. 'That would shut them up.
***
Jay-Jay scored two against Villa, as we won the first leg of the Carling Cup semi-final 5-2, and his second a rocket round the wall with the out- side of his boot from a free-kick. I was pretty elated by that one and remarked afterward, 'I've been with this club as a player and manager for 17 years and I've never seen a better player. People talk about Nat Lofthouse and the like, but I honestly believe Okocha is the best we've had.' It was no respect to Nat.
Jay-Jay had to leave for the African Cup of Nations before the second leg. We nearly bottled it when Villa beat us 2-0 despite them playing with only ten men in the second half following Gavin McCann's dismissal after a clash with Thome. It was my first major cup final as manager or player and I drove myself to my favourite sandwich of fish fingers and cheese!
***
When Okocha signed for Bolton he was well travelled and spoke four languages, but he still needed help in getting permits so his family could join him and he could relax and enjoy his football. Djorkaeff wanted an apartment in Manchester city centre because he'd lived in Paris, yet with a wife and kids you would have thought he would want a house with a garden. I learned to deal with all manner of religions—Muslims, Jews, Protestants, Catholics and Rastafarians. Along the chaplain of Bolton, Phil Mason, we established how religious a player was and treated him accordingly. I had a prayer room which everyone could use and made sure we had the right food for every denomination. Sometimes they didn't want any food at all if they were fasting, which could cause difficulties. You have to be physi- cally strong to play Premier League football and there were times players were too weak to do themselves justice because of their religious beliefs. I had one player who carried mat more than his kit bag and an- other who, wherever we were in the country, had to find the local church every day.
***
What a trio this is—Jay-Jay Okocha on the right, Fernando Hierro in the middle and Gary Speed on the left. Those three would grace any team in the world. Okocha's tricks were mind-boggling. There was nobody in the Premier League who could do what he did. Give yourself a treat, look him up on YouTube. His
first three years at Bolton were special. Hierro didn't even play a full season but still became a cult hero. During his short time in England, he was the best passer in the Premier League, no question, and they weren't show passes, they cut defences apart. Anyone can pass a ball 15 yards sideways; it's a lot harder to find your man passing forwards all the time as he did. His reading of the game was second to none. Speedo, meanwhile, was the pro of pros. He was a Premier League winner with Leeds at the age of 22 and was still playing in the top division as a midfielder at 38. He gave it 100 per cent from the day he started to the day he finished. I said earlier in the book that most players only have ten good years in them, Speedo had nearly twice that. He was the perfect all- round midfielder: he could defend, head it, pass and get in the box to score.
My all-time team (4-3-3): Jussi Jaaskelainen; Habib Beye, Ryan Nelsen, Winston Reid, Ricardo Gardner; Jay-Jay Okocha, Fernando Hierro, Gary Speed; Youri Djorkaeff, Nicolas Anelka, Stewart Downing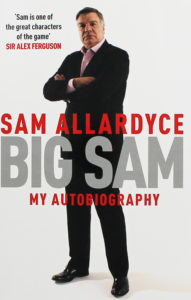 Culled from The Sun